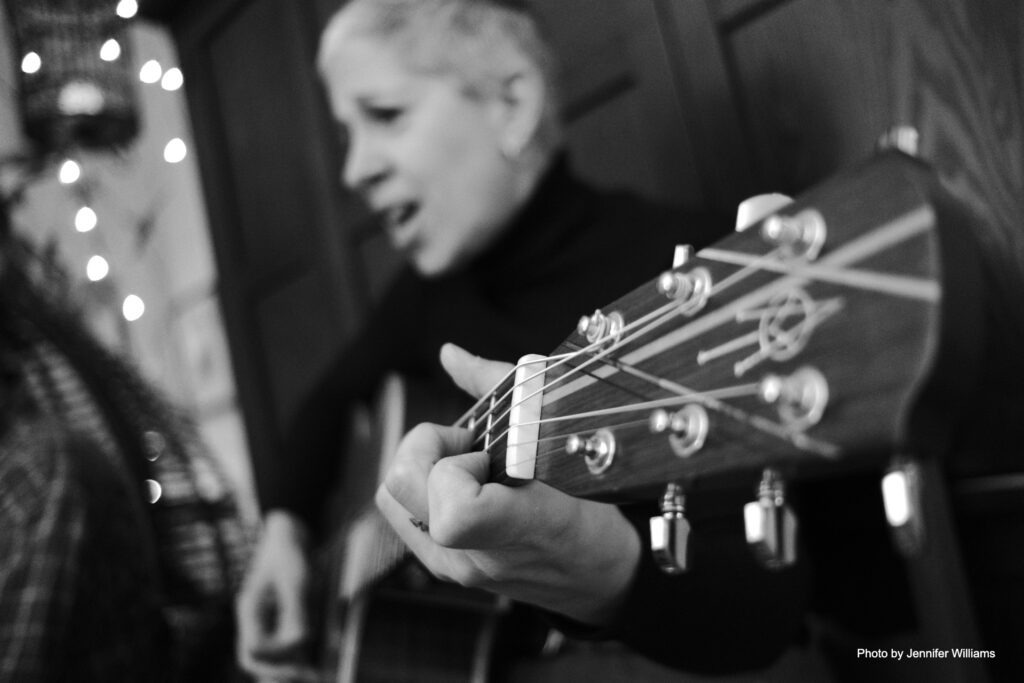 "Lisa Brigantino is what you'd call a complete musician—a superb multi-instrumentalist, singer-songwriter, and not least, rocker. Brigantino brings to her songwriting that real sense of melody that so many putative writers lack." – Jon Sobel, Blog Critics
Award-winning singer/songwriter/multi-instrumentalist Lisa Brigantino is an engaging performer whose eclectic approach to songwriting spans groove, genre and topic. Brigantino's latest album, I'll Waltz Before I Go, continues Brigantino's tradition of producing albums containing her eclectic original songs which span a wide range of genres including Folk, Roots, Americana, Old-Time, Country, Pop, and Rock. Her songs touch on the topics of love, loss, longing, hope, gratitude, family, and more.
I'll Waltz Before I Go was co-produced and arranged by Brigantino and husband Thomas Millioto, and was recorded and mixed by Millioto. The album contains 13 tracks. Twelve tracks are written by Brigantino, and two of these songs are co-written. There is also one cover song on the album. The album contains guest performances by Thomas Millioto, Lori Brigantino, Susan Haefner, and Gus Morgan – Brigantino's former Lez Zeppelin bandmate. With a majority of the instruments played by Brigantino, the arrangements show her versatility as an artist; ranging from mellow vocals and finger picked acoustic guitar, to full band arrangements with Brigantino deftly handling guitars, bass, keyboards, accordion, mandolin, and more.   'Round Magazine says "It's hard to find an album with more variety than I'll Waltz Before I Go…Brigantino's voice itself is something truly special. It combines the brightness and clarity of a precocious twenty-something, with all the range and control of a woman with decades of practice under her belt….Nearly every track is a standout…This is a stunner of an album." The Daily Country says "Throughout the thirteen tracks, Lisa seamlessly blends genres from Folk to Americana, Country, Rock, and Old-Time, even incorporating some Gypsy-Jazz for good measure."
Lisa's previous album release Wonder Wheel, continues to receive international airplay and fantastic reviews, including a 5 star rating and "Pick Of The Week" from Indie Music Critic and Muzikreviews.com as well as numerous other publications, blogs and ezines. Women of Substance Radio says "Lisa is one of the most versatile songwriters we've heard. She is a true artist who has mastered countless styles of writing, singing and performing. This New Yorker moves effortlessly from a sensitive acoustic ballad to an in-your-face bluesy romp without skipping a beat." Among other accolades, Lisa appeared on Indie-Music.com's Top 25 and she was a finalist in the Best Female Artist Category of The 6th Annual International Acoustic Music Awards and for the 1st Annual Songs For Social Change Contest for her song "Used To Be A House." Most recently, she received 3rd place for her song "Every Day's A Journey" in the WomenArts Swan Day Song Contest.
Lisa performs regularly at venues ranging from intimate house concerts and coffeehouses to clubs and large theaters. She has been selected to appear at a number of music festivals and conferences including The New Jersey Folk Festival (Singer/Songwriter Showcase Winner), The Ladybug Music Festival, The Florida Music Festival, Maplewoodstock, The Rockland-Bergen Music Festival, The Pleasantville Music Festival, The Black Potatoe Festival, Wellfleet Porchfest, Folk Alliance International, Singer Songwriter Cape May.
Lisa often performs her original music with her sister Lori Brigantino, also a vocalist and multi-instrumentalist. In addition, the two sisters also perform in "The Vickie & Nickie Show" a wacky, self-contained theatrical musical/comedy act where the real life sisters portray Vickie & Nickie – the multi-instrumental, singing housewife sister duo straight from the hills of Northern Minnesota. Infused with snappy dialogue and audience participation, the sisters entertain with wacky original tunes, hilarious pop song interpretations and improv all while accompanying themselves on many different instruments.
In addition to being a performing songwriter and musician, Lisa has a Master of Music in music composition and music theory from SUNY Fredonia, and she composes music for television, film, theatre, dance and new media.  She also writes solo vocal and choral ensemble music as well as a variety of instrumental music.  Sheet music can be purchased here.   Lisa also does work as a cabaret music director and an instrumental sideman/back-up singer for various live performance and recording gigs. Lisa recently received a certificate from The Recording Academy for playing acoustic guitar and djembe on Joanie Leeds 2020 Grammy-Winning album All The Ladies which won a Grammy for Best Children's Album.  In spring 2022, Lisa composed the original score and performed it live in a production of "An Iliad" at Shaker Bridge Theatre in Enfield, NH.  Most recently, Lisa co-produced a new album/book project with Terre Roche (founding member of The Roches) called "Kin Ya See That Sun," containing live recordings of Terre and her sister Maggie Roche performing many of the songs they first performed when they were a duo and traveling around the country as teenagers on the coffeehouse circuit.  The audio restoration and mastering of the album was done by Lisa's husband Thomas Millioto.
Lisa is a former original member of Lez Zeppelin, the world's first all girl, all Led Zeppelin tribute band and toured internationally with the band for a number of years playing bass, bass pedals, keys, mandolin and doing backup vocals. During Lisa's years with the band, they received rave reviews in many publications and news sources including Rolling Stone (US, Germany and Japan ), Time Out New York & Chicago, Entertainment Weekly, The London Times, The Boston Globe, The New Yorker, VH1, MTV News, CNN News, CBS Sunday Morning and many more. Performance highlights include appearances at The Bonnaroo Music Festival and Voodoo Fest (USA), Download Festival (UK) Rock am Ring/Rock am Park (Germany). The band's self-titled debut CD was released in 2007, recorded and produced by the legendary Eddie Kramer. Lisa co-wrote two of the original songs on the album. Lisa left the band in 2009 to focus on her own original music.
Lisa Brigantino is proud to be a Kurzweil Endorsed Artist. She is a member of SESAC, The Songwriters Guild of America, The International Singer Songwriters Association, Inc., New York Women in Film and Television, Women in Music, Inc. and a voting member of NARAS (The Grammy Awards).  Lisa previously served on the Board of Directors and Advisory Board of Women in Music, Inc. and was a contributing writer and co-editor of the organization's quarterly magazine, WIM.